In the crook of old oak tree's massive arm stretching over Osborne Road, just across the street from City Hall, 2 baby Great Horned Owls perch.  Still cloaked in their white's, their yellow eyes keep tabs on the goings on below.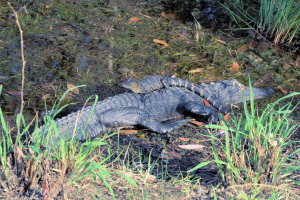 60 minutes due west of St Marys Ga, and the Rose-Lovell House is the Okefenokee Swamp – 
Suwannee Canal Entrance
. Why in the world would you want to visit a swamp ?!? …. because it's one of America's most fascinating natural areas. It's the largest, intact, un-fragmented, wilderness swamps in North America. "Okefenokee" what Seminoles called "Land of Trembling Earth" in reference to it's spongy bogs that have formed over the last 6,500 years. Both the St Marys River and the Suwannee River originate in the swamp. Want more history of the
swamp? 
Go Here