Visit to the Okefenokee Swamp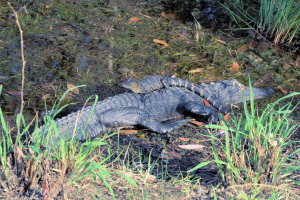 60 minutes due west of St Marys Ga, and the Rose-Lovell House is the Okefenokee Swamp – 
Suwannee Canal Entrance
. Why in the world would you want to visit a swamp ?!? …. because it's one of America's most fascinating natural areas. It's the largest, intact, un-fragmented, wilderness swamps in North America. "Okefenokee" what Seminoles called "Land of Trembling Earth" in reference to it's spongy bogs that have formed over the last 6,500 years. Both the St Marys River and the Suwannee River originate in the swamp. Want more history of the
swamp? 
Go Here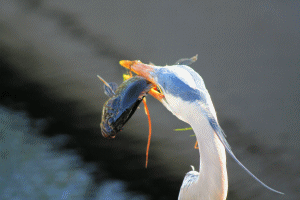 We rented bikes from 
Okefenokee Pastimes
and followed the 
Swamp Island Drive
.  Along the way caught sight of these pair of alligators – mom and baby we think.
After the bike ride while munching on sandwiches and waiting to take the sunset boat tour, a sand hill crane was also enjoying a bite to eat right off the dock next to the picnic tables.
The 
sunset boat tour
was well worth it. The guides are very knowledgeable. It's like taking a trip back to the Pleistocene era thousands of years ago.
Watching the sunset over the marsh I half expected to see a dinosaur… but maybe I did, they are just called gators now.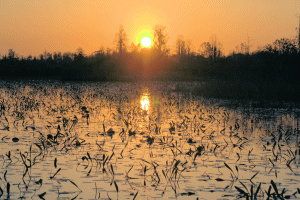 Trackback from your site.